The Internal Quality Assurance Cell (IQAC) of Sri Krishna Institute of Technology was constituted in June 2018 as per the guidelines of NAAC. The IQAC focuses on quality enhancement of teaching, learning, evaluation, research activities. It functions under the Chairmanship of the Principal and IQAC Coordinator and comprises of faculty members from all departments, Representative from Management, the Local Community, Industry, Alumni and a Student representative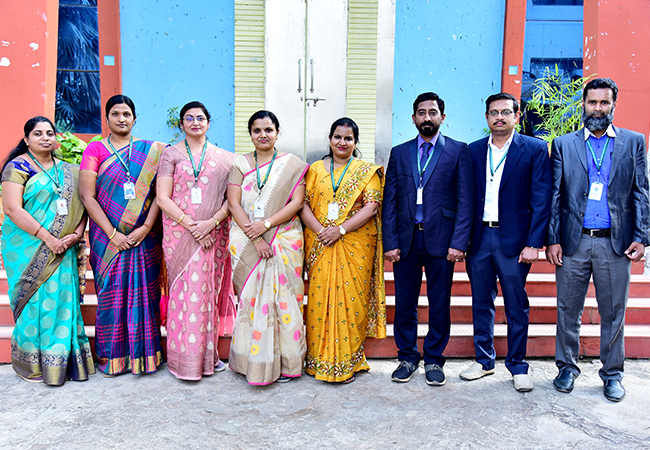 Vision
To ensure quality culture as the primary concern of Sri Krishna Institute of Technology through institutionalizing and internalizing all the initiatives taken with the internal and external support.
Mission
To develop a system for conscious, consistent and catalytic action to improve the academic and administrative performance of SKIT.
To focus on quality enhancement of teaching, learning, evaluation, research activities in the institute.
Strategies
IQAC shall evolve mechanisms and procedures for
Ensuring timely, efficient and progressive performance of academic, administrative and financial tasks.
The relevance and quality of academic and research programs.
Optimization and integration of modern methods of teaching and learning.
The credibility of evaluation procedures.
Ensuring the adequacy, maintenance and proper allocation of support structure and services.
Functions
Some of the functions of IQAC are
Development and application of quality benchmarks for the various academic and administrative activities.
Establishing student Learning – centric environment, using ICT tools for the teaching and learning process.
Periodical conduct of Academic and Administrative Audit and its follow-ups.
Prepares Calendar of Events.
Documentation of information on various quality parameters to all stakeholders.
Organization of inter & intra institutional workshops, seminars on quality related things & promotion of quality circles.
Collection and analysis of feedback from all stake holders on quality related institutional processes.
Awarding the departments and the faculties for their performance annually.
Preparation of the reports to be submitted to NAAC based on quality parameters.
Preparation and Submission of the Annual Quality Assurance Report (AQAR) as per guidelines and parameters of NAAC.
Preparation of the various departments for NBA Accreditations by inculcating various quality parameters.
Message from IQAC Coordinator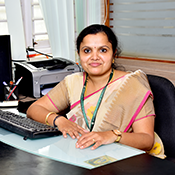 Dr. Savita B Hosur,
Coordinator , IQAC
iqac@skit.org.in
Warm Welcome to All !
The Internal Quality Assurance Cell (IQAC) of Sri Krishna Institute of Technology was constituted in June 2018 as per the guidelines of NAAC. IQAC focuses in Institutional functioning towards quality enhancement. It focuses on the good practices of the institute. IQAC plays a vital role in preparing and maintaining the documentation of the academic and administrative related activities. There is a continuous follow up in the teaching learning processes as well as infrastructural resources of the college. The IQAC is a driving force by ushering the quality by working out intervention strategies by removing the deficiencies and enhancing the institute quality. It ensures that each and every student is benefitted with the good quality education which will help him to frame his bright future. Also, IQAC is always open for the feedback and suggestions, which will inturn benefit in the growth of Institute to greater heights. Thus, IQAC plays a continuous and dynamic role in the betterment of the Institute in all aspects.
| Sl.No | Name of the Member | Designation |
| --- | --- | --- |
| 1. | Dr. Mahesha K | Principal & Chairman |
| 2. | Dr. Savita B Hosur | Coordinator |
| 3. | Dr. Geetha Megharaj | Member, Dept. of AI & ML |
| 4. | Dr. DivyaLakshmi J | Member, Dept. of ECE |
| 5. | Ms. Priyankashri K.N | Member, Dept. of CV |
| 6. | Mr. Avinash. S | Member, Dept. of EEE |
| 7. | Mr. Pramod S N | Member, Dept. of ME |
| 8. | Mrs. Veena Naik | Member, Dept. of ISE |
| 9. | Mr. Imran Ulla Khan | Member, Dept. of CSE |
| 10. | Ms. Rakshitha V | Member, Management Representative |
| 11. | Mr. Mohammed Ali | Member, Local Community Representative |
| 12. | Mr. Hemanth Kumar | Member, Industry Representative |
| 13. | Mr. Shreyas Karnick | Member, Alumni Representative |
| 14. | Ms. Spurthi B. A. | Member, Student Representative |
| 15. | Mrs. Archana Holakal | Member, Associate Administrator |