The Department of Computer Science and Engineering [CSE] was started in the year 2001 with an intake of 60 and enhanced to 120 in the year 2011. Since then the department is striding in a progressive path. The department has a team of well qualified, experienced and dedicated staff members.
The department has well equipped laboratories with state of the art computing facilities installed with the necessary licensed softwares. The department is helping the students in getting exposure to the cutting edge technologies. Students are encouraged to participate in various intercollegiate technical events, cultural activities and sports.
The Department is associated with Infosys Campus Connect program (ICC) to bridge the gap between Industry and Academia. Regular seminars, workshops and National Conferences are conducted with the support from professional societies like CSI, IEEE, ISTE etc. Invited / Guest Lectures by eminent Professors and Industry Experts are arranged regularly to understand the need of the hour in technology. CSE department has an active Memorandum of Understanding [MoU] with Ethical Byte and Karnataka German Technical Training Institute [KGTTI], Bangalore. We conduct Student Development Program [SDP] Training on "Ethical Hacking-Cyber Security", RedHat, Cisco Networking etc through these MoU.
Vision
To be in the frontier of Computer Science & Engineering and to create Technically competent graduates with ethical, moral values committed to meet Industry and Societal needs.
Mission
M1: To produce ethical, motivated, and skilled engineers through theoretical knowledge and practical applications.
M2: Inculcate problem solving and team building skills and promote lifelong learning with a sense of societal responsibilities.
M3: To facilitate functional ambience for research, consultancy and entrepreneurship.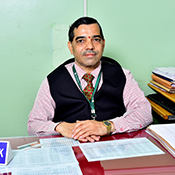 Dr. Shantharam Nayak
Head of the Department
Department of Computer Science & Engineering [CSE] commits to work towards developing Engineers with a rich blend of competent, technical, managerial and social skills which contributes to the Nation building. As a part of curriculum, department emphasize on all the important aspects of computers such as Computer Networks, Mobile Communication, Design & Analysis of Algorithm, Software Engineering, Operating System, Computer Graphics and many more. Learning is a continuous process and does not end with the acquisition of a degree. Steady and rapid advances in computing technologies reduce the life of tools and techniques prevalent today. Therefore we do not aim to make our students walking manuals of any language or package. Instead, they are given a strong foundation in computer science and problem-solving techniques, and are made adaptable to changes.
Over the years we have developed a distinct style and method that bridges the theory - practice divide while the core remains. Our understanding is that persons who are clear and thorough about the fundamentals can adapt to rapid changes in technology relatively easily. We want the education imparted to our students to be the basis of a Life time of Learning. The approach of Outcome Based Education[OBE] is put into practice for result oriented learning. We believe that this method to teaching-learning, coupled with practical exposure gained during studies, equips our students to handle the challenges posed by the software industry.
Course Outcomes:
Faculties frame the Course outcome by using the four components: Action, Knowledge, Condition, benchmark and shall focus on what the student should know and realistically be able to do by the end of the course.
Action
Choose the Action verb required for learning based on the level, this measures the student ability in demonstrating the concept which is required (Apply, Analyze, . . . .).
Knowledge
The Knowledge and its level required to reach/achieve the concept, some of the concepts required are specific to the domain knowledge.
Conditions
what are the conditions on which the above knowledge specified is achieved / or the conditions under which the operations happen to achieve the above said knowledge.
Bench mark
To characterize the acceptability levels of performing the action. Bench mark methods are specified for the Optional element.
Programme Specific Outcomes:
Department of Computer Science and Engineering:
Graduates will be able to:
PSO 1: Model computational problems by applying mathematical concepts and design solutions using suitable data structures & algorithmic techniques.
PSO 2: Demonstrate basic knowledge of computer science in efficient design of problem solutions of varying complexity.
PSO 3: Create career path to become a successful computer science professional, entrepreneur and relish for higher studies.
Programme Educational Objectives [PEO]:
Department of Computer Science and Engineering:
Graduates will be able to:
PEO 1: Acquire domain knowledge to achieve professional competency to pursue higher education and research.
PEO 2: The Graduates of the Program will have skills to function as members of multi-disciplinary teams and to communicate effectively using modern tools.
PEO 3: The Graduates of the Program will practice the profession with Ethics, Integrity, Leadership and Social responsibility.