4th August 2021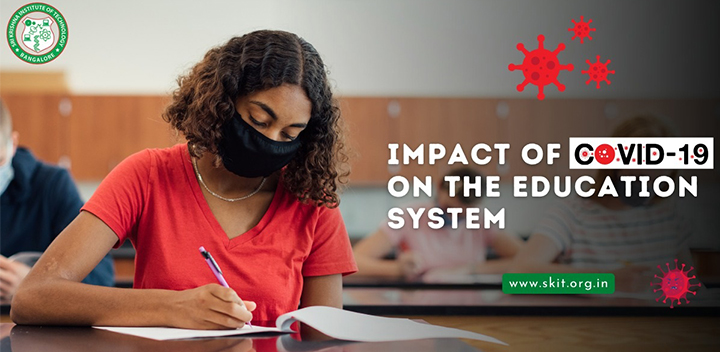 IMPACT OF COVID-19 PANDEMIC ON EDUCATION
"Dr.Savita B. HosurCoordinator, IQAC, SKIT"
Humankind is presently facing one of the worst situation-COVID-19. Coronavirus has affected day-to-day life and is slowing down the global economy. The pandemic has affected thousands of people who are either sick or killed due to the spread of this disease. The virus has changed the way we work, play, and learn. The people in India and across the globe are in the sense of anxiety or stress due to this pandemic. It has created several interferences in everyday people's lives from their work schedules, uncertain future, health, etc. This Covid-19 has also made a significant impact on the education system.
Due to this pandemic, schools, colleges, and universities are shut across the world. This has changed our traditional way of learning, and hence millions of students are inevitably adopting the new type of learning. This has resulted in a dramatic change in the education sector, with the phenomenal rise of e-learning. The unique teaching is undertaken remotely- on digital platforms. Due to the COVID-19 pandemic, educational institutes worldwide began conducting classes via video conferencing software such as Zoom, Microsoft teams, Cisco Webex, Google Classroom, or Google Meet and soon. Educational organizations have created a framework for all overall development of distance learning. This helped the educators to handle the transition from offline to online teaching.
With proper access to technology, it is proved that online learning can be more effective in several ways. Some research shows that, on average, students retain 25-60% more material when learning online compared to only 8-10% in a classroom. This is primarily due to the students being able to learn faster online. E-learning requires 40-60% less time to learn than in a traditional classroom setting because students can learn at their own pace, going back and re-reading, skipping, or accelerating through concepts as they choose. Nevertheless, the effectiveness of online learning varies amongst age groups. The general consent on children, especially younger ones, is that a structured environment, Classroom, is required as kids are more easily distracted online. There needs to be an intensive effort to provide this structure and go beyond replicating a physical class to get the full benefit of online learning.
As we know, in India, due to the Coronavirus, the state governments across the country have shut down schools and colleges. As a result, there is uncertainty about when the school and colleges will reopen in the present situation. Much tension has been raised in conducting entrance exams, including Engineering, Medical, Agricultural, etc.
Lack of access to e-learning platforms or good internet connectivity hinders continued learning, especially for low-income and government school students. This may result in a complete shutdown. In response to significant demand, many online learning platforms offer free access to their services, and few have reduced their prices.
This pandemic has also affected many fresh graduates and final-year students. They are severely facing a crisis of joblessness. Suppose the situation persists in the long run. In that case, there is a possibility of a decline in the demand for international higher education as students may not take admission in the future. This pandemic has made a call for renewing/reframing our education system.