8th March 2021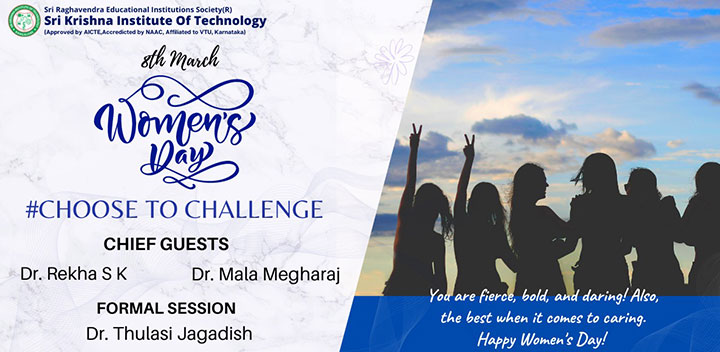 Women's Day 2021 - #Choose to Challenge
Written by: Dr. Savita B. Hosur, Coordinator, IQAC, Sri Krishna Institute of Technology
#ChoosetoChallenge – a Challenged world is an alert world and from Challenge comes Change. In accordance to the theme, the Women's Cell of the Sri Krishna Institute of Technology celebrated International Women's day on 8th March 2021 with a grand endeavour. The event was graced by three Chief Guests, who have challenged themselves in all the stages of life and emerged with flying colours. One of the Chief Guest, Dr. Rekha S K, reminisced on her experiences; all the challenges she faced in her life and what led her to taste the fruit of success. Dr. Rekha believes that "Life is always with unexpected questions; but we must be always ready with all the answer it needs" and the same quote has been implemented throughout her journey to success. It was a profound session.
In "doing it all", many women forget about "having it all". Hence, in this context, Dr. Mala Megharaj, our second Chief Guest, gave us an overview of how a well-balanced nutritional diet is important to all of us, especially for working women and young girls. Because at the end of the day, women have an instinct of being givers than takers. In this era of hectic lifestyle and stress, Dr. Megharaj's session made us all to think about our diet and that its never late to take care of ourselves, as our well-being matters!! And we understood that the Wellness diet is the Nutrition for life.
Women's health is not just about nutrition, fitness, diet, weight loss but also taboo issues like feminine hygiene. In this regard, at the end of the formal session, Dr. Thulasi Jagadish, educated all the ladies and girls why it is important for one to take care of their personal hygiene. Dr. Thulasi gave a clear picture of how reusable feminine products like menstrual cups are eco-friendly and cost effective. Dr. Thulasi's talk made us really look at the other side of the picture, think about it in a deeper sense and how we can contribute in taking care of our mother earth. Also, Dr. Thulasi advised various tips to stay safe & healthy.
We all know that Educational institutes play an important role in shaping the student's career. I will not be wrong, if I say it's a second home for everyone belonging to the institute. And such a humble place needs to be thoroughly cleaned, well maintained with a healthy environment. To maintain such an environment, hard work and continuous efforts are needed. And it's true that hard work pays off always. On this special day, Sri Krishna Institute of Technology (SKIT) recognised the efforts of all the housekeeping staff and honoured them for their sincere and dedicated work in the institute. It was an emotional view for everyone to see the gleaming happiness on their lovely faces.
Then, the afternoon session was all about opening their wings and flying high with joy. Yes!! The young girls of the Sri Krishna Institute of Technology as well as the lady faculties beamed with joy and exhibited their talents in the form of singing, dancing, drama, fashion show, etc. The audience enjoyed the cultural event to the core. It seemed that the faculties forgot about their lectures, academic work, etc., and the students forgot about their classrooms, labs, etc., and just lived the moment to the fullest. At the end of the day, everyone had mouth-watering chats and relaxed. I am sure, that on the way to our home, each one of us had many sweet memories to be noted in our SKIT diary!! It was a day well spent, with clear, relaxed and curious minds, unlike those on monotonous hectic days. My heartiest congratulations and praises to the Women's cell for bringing together a successful event.