Skit Expo - 19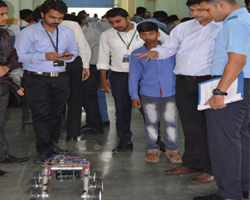 SKIT EXPO-2019 project exhibition was conducted on 20th may 2019, at 9:30 am in B block of SKIT. Professor and Dean Dr. S V Prakash and Chief Guest Mr. Purushotham of Eexcellent Engineers, Bangalore Inaugurated the programme and also addressed students on importance of conducting such events.
Chief Guest Mr. Purushotham briefed over the importance of innovative and industry oriented projects. He also motivated the students to collaborate with industry experts for internship.
Dean of SKIT, highlighted the best practice carried in the college like project based learning, industrial visits, internship etc. He also appreciated and motivated the students for participating in technical events.
There were about 100 projects and posters that were exhibited from students of SKIT and other colleges from Bangalore. The projects were evaluated by experts form Engineering division Airforce, Jalahalli. The Project Exhibition was telecasted by News18 Channel.
Project's exhibited were mainly explored in broad area of Robotics, Manufacturing, Application of renewable energy, Embedded system, Rain water harvesting, Curing of water, IOT and many more. The project exhibition showcased many intersecting concepts and ideas which can be further developed to give better solution for engineering problems and can be developed further as products.
Project Exhibition - 18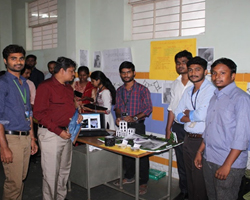 As an annual event National Level Project Exhibition was conducted on 22nd may 2018. The exhibition was organized by Department of Mechanical Engineering and around 8 colleges participated. The students showcased around 104 innovative projects from various disciplines of engineering. The exhibition was inaugurated by Prof.Ravi S Patil, RRIT, Bangalore. The Innovative and outstanding projects were published in media and won many accolades from the public.
The students exhibited their projects in poster, ppt and models which were judged by the jury members. The best project won the cash prize of Rs .4000/-. All the participants who took part in the exhibition received participation certificates.