Graduation Day - 2023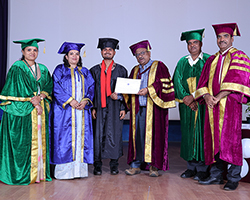 19th Graduation Day was celebrated on 1/7/2023. Chandrashekar B U, Principal Engineer, Synopsys India Pvt Ltd, was the Chief Invitee for the Graduation Day Ceremony. Photo session took place exactly by 9:10am at Amphitheatre for Department wise Group Photos along with Graduating students with Formal Dress Code accompanied by Faculty Members / HOD / Dean Academics / Principal.
Graduation Ceremony got initiated with the Procession during which the Chief Invitee/ Principal / Deans / Heads were invited to Graduation Ceremony officially. Formally Graduation Ceremony took place in Auditorium at 11am with a Invocation song by Prof. Gnaneshwari, Faculty from CSE.
Later, Dean Academics Dr.Puttaraju C welcomed the Gathering , to start with he welcomed Budding Graduands of SKIT for the year 2022-23 to the Graduation Ceremony, also welcomed Wholeheartedly Chief Invitee / Management / Principal / HOD's / IQAC-Head / Senior Professors / Teaching and Non-Teaching Fraternity which is followed by Lighting of Lamp as mark of gratitude and to seek blessings from the Almighty.
Prof. Pradheepa J, Faculty from ISE introduced the Chief Invitee to the Gathering. A Keynote Address was delivered by Chandrashekar Sir, In his address, he briefed the gathering about the journey of his career. He advised graduating students to take up risks and motivated students by saying that "Great Breakthroughs often come from unconventional ideas and dare to explore uncharted territories, but learn to embrace failures as steppingstones to success". And concluded his keynote address by congratulating graduates of the class of 2023 and wished them for future endeavors.
Later Our Principal sir, Dr. Mahesha K gave a Presidential Note, "Appreciated the efforts of Graduating students in Academics, Sports and their active participation in co-curricular activities during their tenure of studies". He wished them to build a best career in their life and to serve their family members with love and care..
ANJALI R – CSE, PRAJWAL - ISE, KEERTHY DHANYA REDDY - ECE, UMAKANT SHARMA – CV & KARTHIK RAI - ME shared their sweet and memorable moments spent during their stay in SKIT campus.
The Book Titled THE 26 LETTERS OF LIFE: A Guide to Finding Motivation which has earned 4.9 star rating on Amazon, Authored by Rahul Naveen - a graduating student from CSE was released by Chandrashekar Sir as a token of Appreciation. Graduation Certificates were handed over to students by Chandrashekar Sir accompanied by Principal / HOD and other dignitaries followed by Convocation Pledge. Finally Vote of Thanks was delivered by Prof. Sowmya C V, Faculty from CSE followed by National Anthem. AND Master of Ceremonies by Dr. Rani Padmini, Faculty from Chemistry Department.
Graduation Day - 2022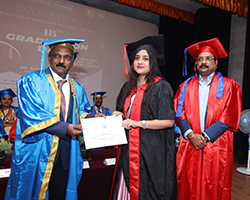 On 29th of July, 18th Graduation day ceremony was organized in the campus of SKIT to felicitate the graduates of the academic year 2021-2022. The inaugural ceremony was conducted in the SKIT auditorium and inaugurated by chief guest Shri Santosh Ananthapura (Head-Corporate affaiars and public policies, Ifosys Ltd). Around 251 graduates, all the faculties of various departments, HoD's attended the ceremony. Dr. Puttaraju C, Dean Academics welcomed the gathering to the ceremony. All the outgoing graduates were felicitated with course completion certificate and a momento by honourable chief guest, Principal and HoD's of various departments. The event was presided by Dr. Mahesha K, Principal and concluded by Vote of Thanks proposed by Dr. Hemalatha K (Dean Student Affairs).
Graduation Day "Shalom 2K18"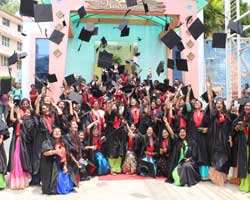 The department of Computer Science & Engineering, organized Graduation day SHALOM- 2K18 on 21st May 2018". In this regard 6 events were conducted. The program started with the Invocation song, dance and continued with the welcome address by the Associate Professor, Computer Science & Engineering Mrs. Geetha Megharaj. All the Students and Staff members were actively participated and completed successfully with the support of Management, Principal, students and staff members.