Report on Induction Program (Phase 1) 2019-20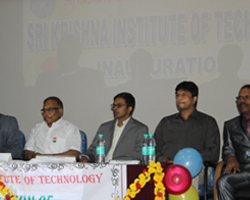 Sri Krishna Institute of Technology, Bangalore conducted five days Induction Program (Phase 1) for the First year students of BE degree course from 16 August, 2019 to 21 August, 2019. The Program started with an introductory address to both parents and students by Chief Guest, Dr. Basavaraj Patil, Director, Think – Ink Research Foundation. Mr. Ananth was the Guest of Honor for the Program. The Presidential note was delivered by Dr. Manjunatha A, Principal, SKIT. After the inauguration, a motivational talk was delivered by the Chief Guest.
Read More
Industrial visit to Sharavathi Hydro Electric Power generating station by EEE Department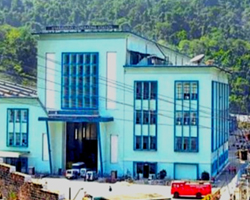 Industrial visits enhance the practical knowledge of students to empower them with the recent developments in the core field and also to provide with a fair idea of the work environment. In this concern Department of Electrical and Electronics Engineering had organized industrial visit to Sharavathi Hydro Electric Power Plant, on 16.4.2019, for fourth semester students. Our students visited the power plant and learnt about different aspect of power generation in detail.
Induction Program 2018-19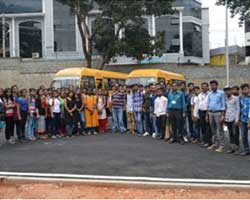 The Basic Science Department conducted Two week Induction program for the First year students of BE degree course from 20 August, 2018 to 1 September, 2018.
The Program started with an introductory address to both parents and students by Brahmakumari Roopa, Chief guest of the program and Dr. Manjunatha A, Principal, SKIT. The aim of the program was to give the students a bird's eye view about various dimensions of Engineering and the career opportunities for the engineering students and to acquaint them with the systems and procedures of the college. The motive of the program was to give proper orientation to the new students about the course and future prospects and the methodology of learning to be adopted to be successful in life. Also, the students were familiarized with the procedure, scheme and syllabus, guidelines, examination system. Expert talks were from both internal and external resources. Following topics were covered in the Induction program: motivation, communication, time management, stress management, crisis management, Entrepreneurship, NSS and Yoga. An educational movie was also shown as the part of it. The sessions were very well received by the students.
NCC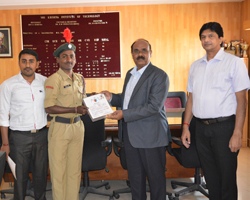 Manohar H S(Mechanical) and Roushan sha (Civil) has achieved Certificate "C" Examination in "A "grade held in 2017, from 1 KAR Battalion and 8 KAR Battalion respectively under the authority of ministry of defence government of india.
Kannada Rajyothsava - 18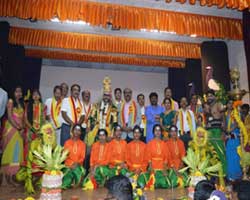 Department has participated in the celebration of Kannada rajyothsava conducted by our college on nov 3rd of 2018 by representing folk dances of different districts of Karnataka, where students have participated with more enthusiasm.
Fresher's Engineer's Day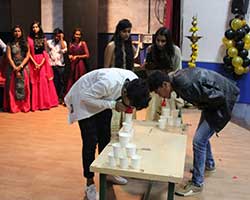 Department of Electronic and Communication Engineering has a ritual to celebrate FET that is Fresher's Engineer's and Teacher's day every year. This is a practice, our students have by which they not only honour their teachers and pay tribute to great Engineers the country has seen but also welcome their Juniours to the department gracefully on the same day. This event for 2018 -2019 took place on 6th of October which was graced by our honourable Principal Dr A Manjunatha, our dean Dr S V Prakash and our beloved HOD Dr Devananda S N. The event was Inaugarated by our Principal and addressed by our HOD . A lot of Cultural events and games were organized by our final and prefinal year students for the freshers.
The event was filled with lot of enthusiasm and has become witness for various upcoming talents that our students had.
Industrial visit to Electrical power receiving substation
The department of Electrical and Electronics Engineering got a permission to visit Electrical power Receiving substation (220KV/66KV) on 13th October 2018 from Karnataka Power Transmission Corporation Limited, Bangalore.
On the morning of the due date all the third, fifth and seventh semester BE students (total 50 students) accompanied by eight faculty reached the substation by college bus. We were received by Ms. Radhika, assistant engineer of KPTCL. After completing the entry formalities we were taken inside the substation office.
This industrial visit was an enriching experience for students and faculty. The students got practical exposure to electric power transmission and distribution. We hope this visit will help them in selecting internship, projects and selection of job in future.