Project Exhibition - 18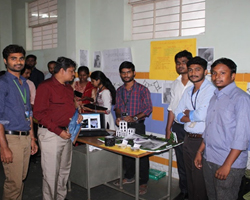 As an annual event National Level Project Exhibition was conducted on 22nd may 2018. The exhibition was organized by Department of Mechanical Engineering and around 8 colleges participated. The students showcased around 104 innovative projects from various disciplines of engineering. The exhibition was inaugurated by Prof.Ravi S Patil, RRIT, Bangalore. The Innovative and outstanding projects were published in media and won many accolades from the public.
The students exhibited their projects in poster, ppt and models which were judged by the jury members. The best project won the cash prize of Rs .4000/-. All the participants who took part in the exhibition received participation certificates.